NEW DELHI: The share of PM2.5 pollutants from stubble burning in other states in Delhi's air rose to 19% on Saturday, the highest so far this season, according to System of Air Quality and Weather Forecasting and Research (SAFAR), the forecasting body under the Union ministry of earth sciences.
Track the pollution level in your city
The body identified 882 fire counts on Friday, up from Thursday's 583, related to burning of harvest remains in the neighbouring states. The prevailing northwesterly wind is transporting the pollutants from Punjab and Haryana to Delhi.
On Wednesday, the contribution of stubble burning to PM2.5 concentration in Delhi's air was only 1%, increasing to 6% on Thursday and 18% on Friday. In 2019, the highest proportion of farm fire emissions to the city pollution was 44% on a single day.
Dipankar Saha, former head of Central Pollution Control Board's air laboratory, explained, "The smoke and other pollutants released from stubble burning travel westward, but whenever there is a north-northwesterly wind, the pollutants reach Delhi and stagnate at the gateway of the Indo-Gangetic plains. The micro pollutants resulting from farm fires transform into secondary aerosol and increases PM2.5 and PM10 levels in Delhi."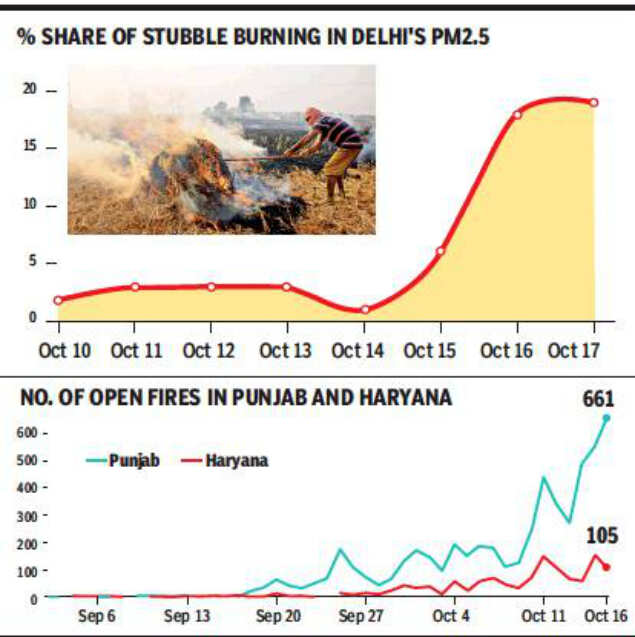 Kuldeep Srivastava, scientist at India Meteorological Department and head of Regional Weather Forecasting Centre in Delhi, said, "The wind has been northwesterly since Thursday and the pollutants from Punjab and Haryana are being transported to Delhi. And then because the winds have remained calm during the nights for the past few days, the pollutants have not dispersed."
Sumit Sharma, director (earth science and climate change division), The Energy Resources Institute, said that whenever there were meteorological unfavourable conditions for the capital, the pollutants generated by stubble burning got transmitted to Delhi. "It is an episodic thing that happens every year during this time of the year. However, we need to make long-term plans by focusing on both the in-situ and ex-situ management," Sharma said. "We need to create a sustainable business model to collect, store and process waste into useful materials. Farmers should feel that the remnant of the harvest is not waste, but a resource for them."
Sharma added that as we moved deep into winter to December and January, the pollution would be higher due to local pollutant sources, including transport, industries and burning of biomass.